There are many reasons why food is exported or moved across the world and there are reasons why food is often moved by air. One of the most common reasons for international food export via air includes sample movements and machine testing. At the same time, it could be that businesses export food internationally via air because special handling is required or that it has short shelf-life.
But when it comes to international food export, you can rely on professional cargo services to handle exporting food around the world for you. If you have a food business, exporting proves to be a great way that you can expand and grow it.  In the food business, exporting food internationally is a common practice especially if you are serving your customers with non-local food.
On that note, there are certain things you need to know about international food export before you start buying or ordering food from your supplier abroad. Exporting is not easy as you will have to deal with international laws and a number of agencies. Apart from these, you will have to find the right carrier that will safely export your goods abroad.
Exporting Food From Country to Country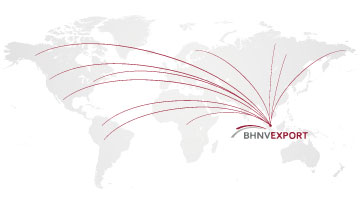 Every country has different laws and varying agencies that deal on international food export. Depending on which country you are from and which country you are planning on exporting food from, there are different laws you need to know to safely and legally export your goods for your food business. On the other hand, there is some general information on exporting food abroad that can help ease the process for your business.
When it comes to exporting, food and any other goods, the general practice is that the importing country is required to have the product comply with the importing country's laws and standards. In the US, FDA is the agency that is looked upon by the country's food industry as well as foreign governments as a competent authority with regards to attesting of produced foods of US. Still, the agency still has no legislative authority to issue food export certificates.
Export Food for Your Business with BHNVEXPORT International Food Export Service
If you're business is on food industry with your product source out of the country, you need a reliable food export service that can handle moving your goods in safely and timely manner. BHNVEXPORT is an international food export service that specializes in moving foods from country to country, ensuring that they arrived on time so your business will run without any problem.
BHNVEXPORT is your trustworthy, reliable food export service providing you with the right environment for food export, one that is durable, quick and efficient in terms of regular movement of food products. We will make sure that your goods are correctly packaged, loaded in correct carriers and flights and most of all, have complete paperwork. This way, you can avoid any lengthy delays that might have huge impact in your service.
If you need expert food exporter, don't hesitate to call BHNVEXPORT. They can be reached easily on our Singapore and US offices. Simply call SINGAPORE: +65-31591220 or USA: +1 (786) 502-9227 and we will provide you most convenient international food export.